As cash usage continues to decrease and Canadians become increasingly accustomed to a wider range of digital payment methods, businesses of all types from retailers to services are looking to offer greater convenience and security to customers with contactless technology.
With so many ways to pay for goods and services digitally, it's easy to see why carrying physical currency in the form of bills and coins is becoming increasingly rare for Canadians. This is especially prevalent in recent months as the effects of the COVID-19 pandemic have accelerated the widespread use of digital or online payments, with some businesses even switching to a model where they are simply not accepting cash payments in any capacity.
Of course, this is not exactly a new trend. The ubiquitous presence of credit and debit processing terminals throughout our world means we've been swiping cards and entering PIN numbers for decades. However, the speed, convenience, and security of cashless digital transactions has been increasing as more advanced technologies and innovative new payment methods are developed. One method in particular has proven to have a dramatic impact on the efficiency, security, and flexibility of payment processing, and that method is known as contactless payment processing.
Contactless payment systems offer many advantages for businesses that can help boost profits, increase customer satisfaction, and work to drive business growth by facilitating a wider range of transaction types. Let's explore contactless payment solutions in more detail, and clearly define the way the technology works.
How Does a Contactless Payment Terminal Work?
The ability for a contactless payment solution to function comes from radio frequency identification (RFID) technology. RFID signals are transmitted and received through small, specialized chips that can be embedded into virtually any object. The most common types of items used for contactless RFID payments include plastic cards, such as credit and debit cards, as well as devices such as smartphones, tablets, and smartwatches.
The process by which RFID signals are sent and received is known as near-field communication (NFC). NFC technology has been used for many years in a diverse array of situations, e.g., luggage movement systems in airports or grocery store inventory management. NFC and RFID technology work together to facilitate transactions in a similar manner, however there are additional layers of security used to ensure a safe exchange of data.
Once a contactless transaction has been initiated, either by the merchant at a point-of-sale terminal or by the customer at a self-serve terminal, a short-range signal is emitted. This signal is received by the RFID chip inside the customer's payment device when it is moved into close proximity of the terminal, usually within about a 10cm range. The RFID chip then sends a signal back to the payment terminal providing the information needed to verify and approve the transaction. The entire transaction process is completed without the need to ever make direct physical contact between the customer's device and the payment terminal.
As one can imagine, this method of contactless payment processing is far more efficient than others, such as dealing with cash and making change, and even swiping cards that require PIN entry. In fact, there are many significant benefits and advantages of contactless payment solutions from the perspective of both businesses and consumers.
What Are the Advantages of Contactless Payment Systems?
Fast & Efficient Transaction Processing
Every second of time that a business can save on transaction processing can have a big impact over the long term. With the speed and efficiency of a contactless payment terminal, this time savings can be considerable, equating to more transactions processed each week, each day, and hour. By not wasting unnecessary time counting change, handling cash, or waiting for PIN entry, customers are able to quickly proceed through the entire transaction process far more efficiently. At the end of the day, more transactions processed means more revenue for your business, and that helps drive profits forward.
Frictionless Customer Experience
From a customer perspective, using a contactless credit card terminal, such as a clover terminal, make transactions much simpler. Simply move your payment method card or device near the terminal, and within just seconds your transaction is completed and you're on your way. The days of mistyped PIN codes or magnetic stripes that won't work are gone, as contactless payments eliminate these frustrating aspects of card-based transactions. And with banks increasing tap and go payment limits to $250 for Visa & MC transactions, there are even fewer times customers need to deal with handling payment terminals.
In addition, contactless payment solutions offer a great deal of convenience for customers, as they can be used for all types of unattended transactions as well. For example, car parking, car wash, tire pump and vacuuming stations, vending machines, self-serve kiosks, donation stations, and other unattended payment terminals are all made more convenient and more efficient by offering contactless transaction processing.
Reduces Risks of Transaction Fraud
Contactless payment technology uses multi-layers of protection and secure data encryption to prevent fraudulent transactions. While magnetic stripe cards are fairly easy to capture and clone, contactless payments are known as 'authenticated payments'. This means the actual data signals sent between the RFID chip in the payment card or device and the merchant terminal are encrypted and continually changing. Thus, that the data used to process each transaction is completely different from all of the others, making it futile to use data from any previous transaction to create a fraudulent purchase.
Fewer Touchpoints & More Sanitary
While this has always been a benefit of contactless POS technology, the reduction in physical touchpoints during a transaction has recently become a critical aspect of the customer experience due to the global pandemic. By not relying on the physical handling of credit or debit cards, or requiring the manual entry of PIN codes, contactless payments are far more sanitary for both the business and customers. Looking forward, we expect that the contactless payment terminal will continue to become more established as the standard approach for transaction processing.
Greater Flexibility in Compatible Payment Methods
Another advantage that contactless payment solutions bring to the table for businesses is the flexibility to accept a greater variety in payment methods. Digital wallets such as Apple Pay and Google Pay are gaining traction with consumers across the country, and older point-of-sale systems and card readers are simply not capable of accepting those types of payments. The last thing a business wants is to lose out on a sale simply because they're not able to take a payment due to outdated technology. A contactless credit card terminal allows customers to pay however they want, helping to boost customer satisfaction.
With advantages like this, the cumulative impact that contactless payment processing can have on a business' bottom line can be rather substantial. While each individual benefit is reason enough to adopt a contactless terminal, the sum of these benefits together make these solutions even more compelling.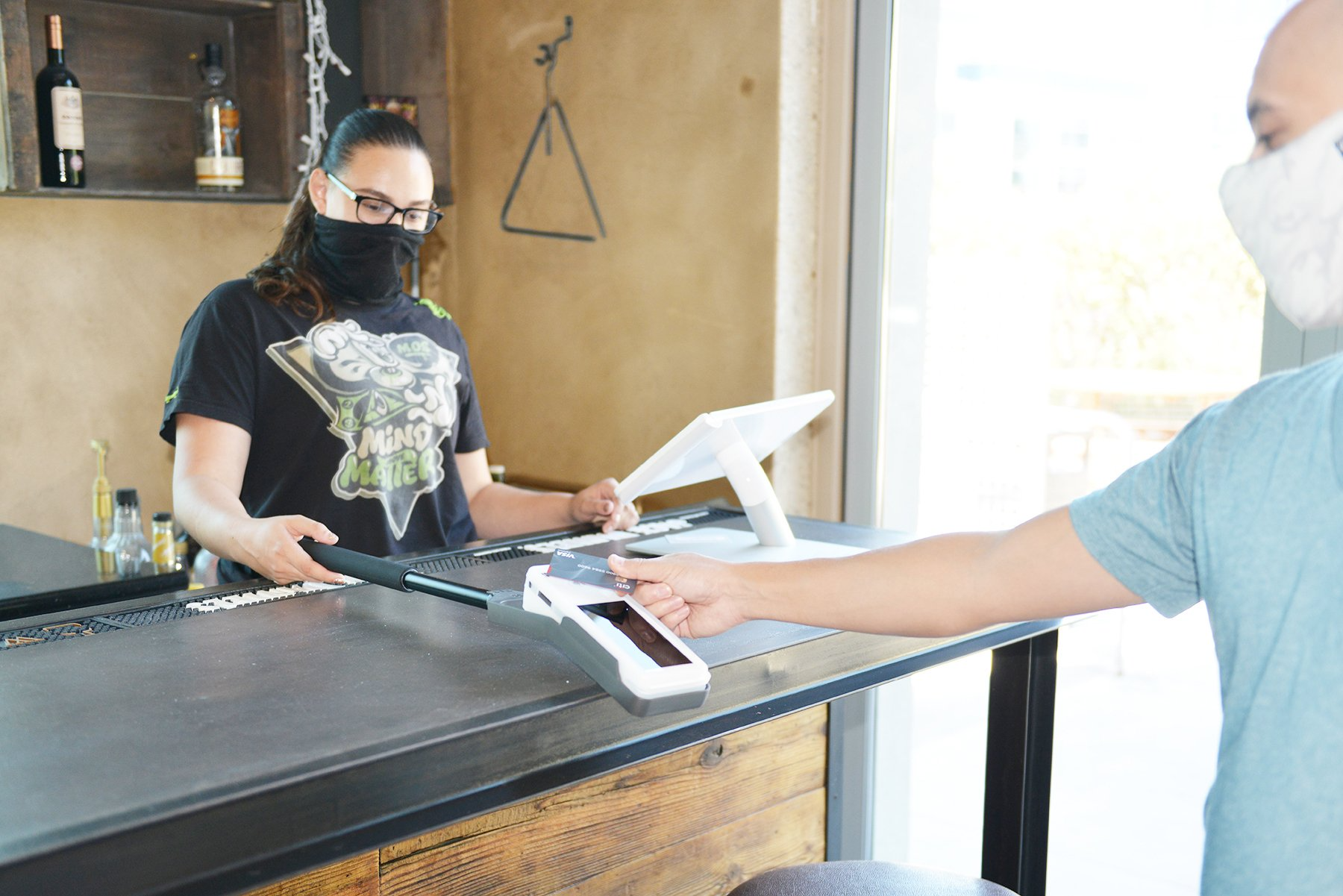 How Does Contactless Payment Technology Help Drive Business Growth?
Driving business growth in a fiercely competitive marketplace is no easy task, so companies need to leverage any advantage they can to strengthen their position and set the stage for continual advancement. Incorporating contactless payment technology into your business is one such approach, and one that can have an immediate impact.
Offering the convenience of contactless payments can encourage customers to purchase more frequently, as it reduces friction in the transaction process. It also enables greater convenience for customers, opening up the door for a business to offer unattended or self-serve payments, thereby extending a business' operating hours to 24/7/265 in some cases.
Contactless systems also enable companies to attract customer groups who prefer to use payment methods that their point-of-sale system was unable to process previously, such as digital wallets like Google Pay or Apple Pay. Giving customers their choice of payment methods at the moment of transaction can be a major advantage and result in fewer abandoned carts and a dramatic reduction in lost sales.
Operational efficiency is yet another reason why adopting a contactless payment processing system can help a business achieve growth and improve ROI. Contactless payments speed up transaction and checkout processes, increase security, reduce fraud, and provide valuable time savings by eliminating the need for dealing with physical money.
Businesses can even add value through contactless payment processing by integrating the system with many different types of customer loyalty and reward programs. It becomes far easier to incentivize customers to sign up for loyalty points or purchase rewards accounts when there's no extra cards to carry and everything is completely automated. All they need to do to get more for their money is go about their normal shopping routine and your business' contactless payment system does the rest.
Take the Next Step into the Future with A Contactless Payment System
Equipping your business with a contactless payment processing system is simply the smart thing to do. Not only will you be providing a more convenient and simpler transaction experience for your customers, but you'll also be providing them with greater security and peace of mind, while simultaneously increasing efficiencies in your business and boosting profitability.
Now is the time to incorporate this powerful and innovative technology into your business, and MONEXgroup is the partner you need to use it to maximum advantage. Along with a suite of flexible, secure, and convenient contactless payment processing systems to choose from, we also provide our clients unequaled customer support and expert technical service to ensure successful implementation and reliable operation from the very beginning.
Contact MONEXgroup today to obtain a free cost savings analysis and discover the impact that a contactless payment processing solution can have on your business.
Author: Layal Scheirich, Head of Sales at MONEXgroup
Bio: With 18 years of experience in payment processing and merchant services, Layal has seen in-store POS technology evolve from its humble beginnings to contactless, unattended, mobile and online alternatives. Today, Layal is an inspiration to the MONEXgroup's team and a go-to source of information related to payment processing. She is enthusiastic to share her knowledge with audiences interested in cutting-edge technologies available today, such as unattended payment for self-serve kiosks, e-commerce online payment gateways, virtual terminals, and contactless and mobile payment solutions.
Social Media Profile: LinkedIn
Contact Info: insights@monexgroup.com
Jumpstart your business potential now with MONEXgroup
Get a Free Quote
[hubspot type=form portal=467718 id=8091173b-016a-4961-81d0-963bf117a5f6]
MONEXgroup Insights
MONEXgroup Insights provides all the tools and resources you need to start, run and grow your business.