Adding touchless laundry payment systems to your self-serve laundromat can help improve the overall experience for your customers (and your business), which will keep them coming back and spending more. As the leading laundromat payment solutions provider covering most of the market share in Canada, MONEXgroup is your source of information for everything you need to know about contactless payment systems for your self-serve laundromat.
Here is a real-life story. Jessica, a single mother of two finishes her 12-hour shift, arrives back at her apartment and looks at an overflowing clothes hamper in the corner of her bedroom. She knows it's time to take a dreaded trip to the laundromat. After a quick microwave dinner, she bundles up her four and six -year-olds, slings two heavy bags over one shoulder, her purse over the other, scoops up her phone and heads out. Three blocks later she arrives at the closest laundromat, sorts her clothes and tosses them into a couple of machines with detergent and fabric softener. Keeping an eye on her kids playing on the floor with toys they stashed in their pockets, she roots through her purse for her bag of change. Jessica's head drops as she realizes her heavy coin stash is sitting on the counter back at her apartment. Dejected, she spins to start removing her soap-soaked clothes from the machines, but then, for the first time, she notices a new laundry payment system attached to the sides of each of the washers. Her face lights up as she returns to her purse to grab her credit card, which she can use to simply tap and pay for the use of the washers and dryers. She's also noticed the new device offers a mobile pay app she can easily add to her phone and use anytime to pay for her laundry and keep track of how much she's spending over time.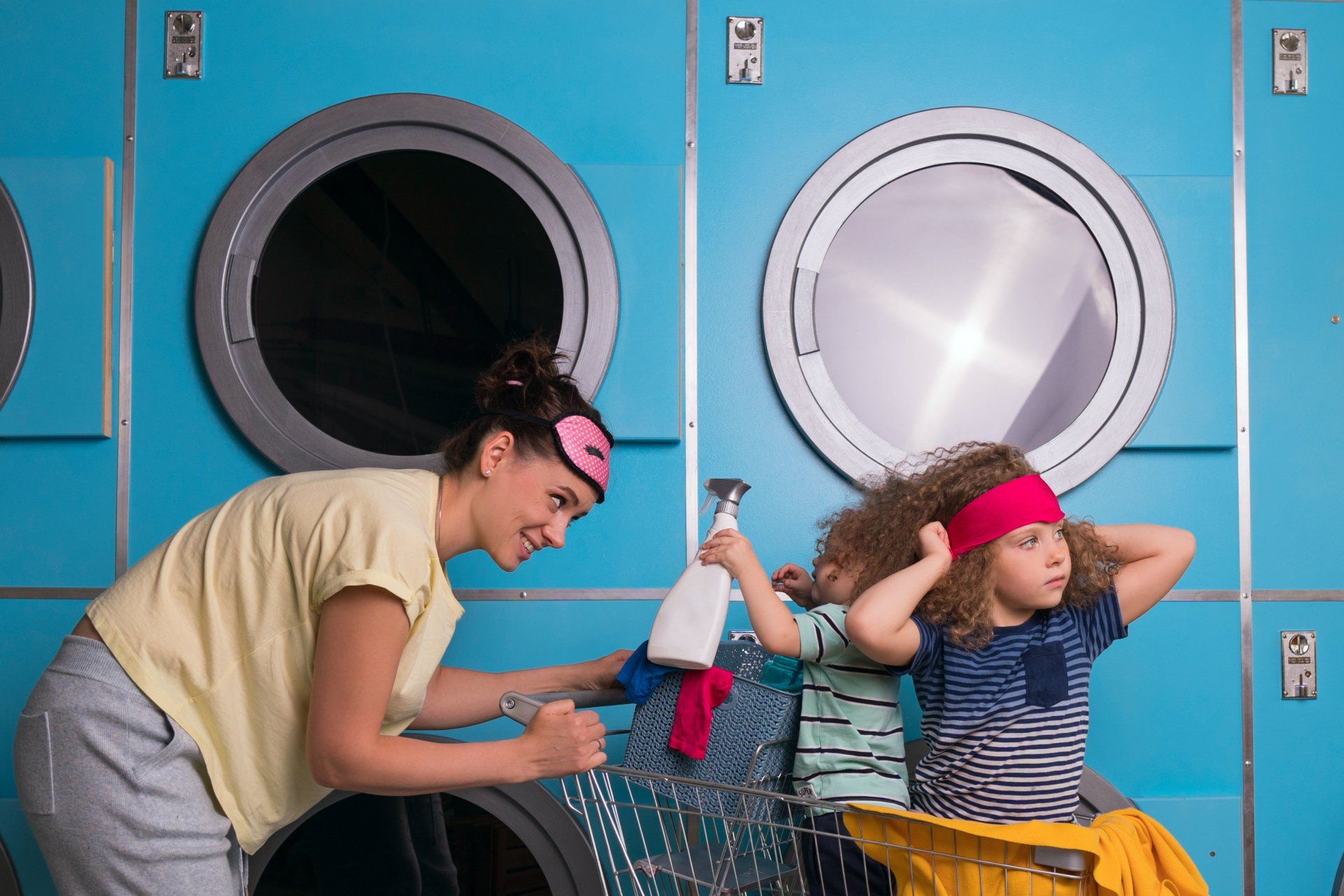 Flexible, contactless credit card laundry payment systems and mobile phone payment options are quickly becoming the preferred method of payment for many laundromat customers who use the same to complete so many other types of retail transactions.
Debit cards, credit cards and mobile phone payments have been steadily replacing paper cash and coins over the last 10 years based primarily on convenience. According to Payments Canada, contactless payments grew from $6 billion to $130 billion from 2012 to 2018; a 22x increase. A 2020 study by Mastercard revealed 8 out of 10 of their global customers used contactless payments. Applied to laundromat's, it's obviously much easier to be able to tap your card or phone than it is to have to carry and insert multiple coins or even worse, have to find and change bills for change.
Of course, the pandemic events of the last year and a half have only heightened the awareness of average consumers to the convenience and safety of using touch-free transactions whenever and wherever they can. Another study from Mastercard in April 2020 found 82% of global consumers view contactless as the cleaner way to pay. From a personal security and privacy perspective, small value transactions, where coins and small bills have traditionally been used, are perfect candidates for contactless methods as the perceived risk of tapping a card or waving a phone is much lower. Tech-savvy young people in particular favor being able to make and manage small payments from the convenience of a single device.
Laundromat operators are, in turn, realizing there are also significant time, maintenance and long-term cost savings to be realized by the introduction of new laundry credit card systems and technology to complement, if not replace, their existing cash and coin options. It's been confirmed that customers will tend to spend more and return more frequently when more convenient payment options like cashless laundry systems are made available to them.
There are numerous features and benefits designed for both customers and operators to be considered when researching and selecting an appropriate laundromat payment system for your business.
Customer-Friendly Features and Benefits
Multiple Payment Options
Laundromat customers appreciate and seek out locations offering multiple ways to pay. Modern contactless payment solutions offer support for mobile phone payments via NFC or mobile app QR codes, Apple Pay, Google Pay, Visa, Mastercard, Amex, Interac Debit, Laundry Cards, EMV Chips, Magnetic Stripes or Coins. Convenience and flexibility can be the difference between a customer coming into your laundromat or taking their laundry elsewhere.
Further, business owners in other self-serve industries have reported up to 20% increases in the average amount customers spend after enabling electronic payments. When these small, secure payments are easy to make, customers are put at ease and are more likely to pay by a card.
Mobile Payment Apps
A laundry payment mobile app for customers will enable them to pay via QR code, pre-pay for washes, or track their laundry expense history. Again, the convenience of having all of this functionality in the palm of your hand can be a significant attraction and additional reason to visit your laundromat location vs. competitors'.
Features and Benefits for Laundromat Owners/Operators
Get Your Money Faster
As a merchant of record, you receive the funds directly in your bank account. Funds are typically deposited directly into the business owner's bank account by the payment processor no more than one day after payments are received. If your payment processor doesn't enable quicker access to funds, it will make sense for you to consider switching to a different service provider.
Get a Better Control Over Your Operation
Electronic payment solution enables more control over your laundry facility, without you having to be physically present at the shop. By using a management app described below, you will receive notifications if any of the machines aren't working. You will be able to check how much money the machines are making (transaction volume), eliminate vandalism. With a management app, the shop becomes completely self-serve – you don't have to go there in person to manage it.
Mobile Apps
Mobile phone apps offer laundromat operators the ability to remotely monitor and manage individual units or all of the washing and drying machines in their stores as a whole.
Operators or store managers can use their laundry management app to check on the status and performance of equipment, issue refunds or check on real-time sales and revenue data from anywhere with an Internet connection.
All-in-One Payment Solutions
Modern mobile pay laundry solutions offer the all-in-one convenience of secure PCI compliant hardware, mobile apps and QR code payment options bundled into single, straightforward packages.
Contactless payment hardware is Internet-enabled, meaning that setup and configuration require no more than a WiFi, Bluetooth or Ethernet connection. Because there is no key injection required, these reliable, self-contained units experience little to no downtime, where revenue can be lost.
Cleaner Accounting and Security
Digital transactions are automatically logged, tallied and stored securely in the cloud, which is a far cry from manually counting process involved with coins and dollar bills. By accepting digital laundry payments, business owners reduce the risk of human error and the potential for theft.
Web and Mobile App Based Reporting
Laundromat payment data can also be analyzed at a higher level in real-time or historically via configurable Web based dashboards and reporting. Owners or authorized staff will be able to filter, sort and view all credit, debit and mobile payment data by location, device, date range or other specific data points. This data can then be used to quickly identify trends, troubleshoot issues and maximize revenue opportunities. Owners can define specific user access and permissions to this data to enable laundromat staff to help in defining the success of the business.
Customer Service and Support
It's important to find and work with payment solution providers who stand behind their products and offer solid service level agreements in the event of malfunctions or outages. Hardware sometimes fails and software can experience bugs despite best efforts to avoid such occurrences, so be sure to choose to work with a partner who is committed to providing a solid service level agreement and reliable customer support team.
MONEXgroup offers best in class customer service and support if you have trouble with any of your laundromat payment processing terminals, with same day replacement in many cases (when required). And when you have an issue and call in, you're actually able to speak directly with your support team who'll already know who you are, what equipment you're using, and be able to provide a quick solution to whatever issue you're encountering. MONEXgroup believes support is as important as having a great product.
MONEXgroup payment technologies are installed in thousands of apartment laundromats across Canada.
Research and Select the Right Laundromat Payment System
Over the last several years, consumers have clearly stated their preference for safe, secure and convenient contactless payment options via debit card, credit card or mobile phone in addition to cash and coins. Tap transactions are becoming the norm for most small purchases. Laundromat payment systems can be quickly implemented as an additional source of revenue alongside traditional coin and cash and a safeguard against customers going elsewhere for more convenience and flexibility.
Are you a laundromat owner looking to upgrade your laundry payment options? The folks at MONEXgroup are here to answer any technical, service or pricing related questions you may have about our industry-leading, contactless laundromat payment system.
Contact Us anytime to discuss how we can help you better serve your customers and grow your business. We're here to help.
Author: Layal Scheirich, Head of Sales at MONEXgroup
Bio: With 18 years of experience in payment processing and merchant services, Layal has seen in-store POS technology evolve from its humble beginnings to contactless, unattended, mobile and online alternatives. Today, Layal is an inspiration to the MONEXgroup's team and a go-to source of information related to payment processing. She is enthusiastic to share her knowledge with audiences interested in cutting-edge technologies available today, such as unattended payment for self-serve kiosks, e-commerce online payment gateways, virtual terminals, and contactless and mobile payment solutions.
Social Media Profile: LinkedIn
Contact Info: insights@monexgroup.com