Tap & Wash™ is the most comprehensive and robust Unattended Payment Solution for any self service car wash. The top-of-the-line unattended POS terminal integrates flawlessly with any existing devices on site, enables all payment types, and configurations, ultimately increasing your revenue.
This low-touch device is durable, engineered to function in any environment with reliable connectivity. Besides for an exceptional customer experience, as a car wash owner/operator  you can take advantage a turn-key solution that includes detailed reporting, remote control functionality, custom mobile app, and more.
Increase Your Car Wash Revenue
Increase the average amount customers spend by ~30%*

Attract new patrons preferring low-touch or contactless experience

Increase frequency of visits by not limiting to coin only

Encourage upselling by not being limited to pocket change

Lengthen wash sessions with pre-authorized transactions
*Based on portfolio data.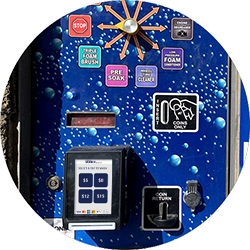 The MONEXgroup Unattended Payment Terminal easily integrates with any existing infrastructure: bay, vacuum, tire inflator, and vending machines. Simple API for kiosk integration is available, so you can mount these devices to all coin mechanisms on your bays, vacuums, and vending machines. If you are currently operating a coin carwash, this top-of-the-line device is your best option for a profitable upgrade.
The device enables your customers to pay by debit cards, credit cards, or mobile wallets, capturing all payment methods: tap, insert, swipe.  This attracts new car wash customers preferring electronic payments using Visa, Mastercard, Interac, American Express, Apple Pay, Google Pay, QR Code, and ultimately increases your revenue. No PIN, no swipe, and no key injection, making the terminal low touch and easy to maintain. The Unattended Carwash Payment Terminal is a plug & play payment solution, fully PCI compliant, meaning there is no additional certification required for your business. Tap & Wash™ will reduce payments by coin, and decrease the reconciliation cost.
Versatility Engineered for the Self-Service Car Wash
Ruggedized for Any Conditions
For better resistance to wear, stress, and abuse at the car wash, the Unattended Payment Terminal is engineered to be dirt proof, waterproof IP56, and tamper proof IK09. Tap & Wash™ is a solution that virtually eliminates theft and vandalism.
This resilient device operates in all weather conditions, from -35°C to +60°C, ensuring continuity in operation and eliminating downtime.
Fast & Reliable Connectivity
The MONEXgroup Unattended Payment Terminals is the best-in-class payment processing solution. This multifunctional contactless payment terminal can be easily mounted on all coin mechanisms on the bays, vacuums, and vending machines at your Car Wash.
1 SIM / 1 Router for all terminals on site
no cabling required
secure encrypted WiFi connection
no separate internet required
zero downtime at your car wash POS
reliable power supply
capable of connectivity thru Ethernet & LTE
simple API for kiosk integration
Technical Specs
Display: 3.5" full color LCD 320×480
Processor: 32-bit Cortex-A9 secure CPU, 500MHz
Memory: 128Mb Flash, 128Mb RAM
Real-Time Clock Battery: backed up for data retention
Magnetic Stripe Reader: ISO 1/2/3 track bi-directional ISO 7810/7811 (500,000 swipes)
Smart Card Reader: EMV L1, ISO 7816 (1.8V, 3V, 5V), Synchronous and Asynchronous T=0 and T=1 protocol (500,000 insertions)
Contactless Card Reader: EMV Contactless L1, ISO/IEC 14443 Type A/B, ISO 18092, MIFARE NFC
Beeper: Integrated single-tone buzzer
Communication: WiFi 802.11b/g/n, LTE, Bluetooth
Peripheral Ports: 1xUSB-A (OTG), 1xUSB-B (Device), 1xLAN, 1xSMA, 1xMDB, 1xRS232
Power Supply: MDB 10V-45V
Operating Temperature: -35⁰C (-31⁰F) to +60⁰C (+140⁰F)
High-level Resilience: IP56 Waterproofness, IK09 Vandal Resistance
Physical Dimensions: 3.4" x 2.5" x 4.2" (WxDxH)
MONEXgroup is a member of the International Carwash Association®, the nonprofit trade group representing the professional car wash industry in North America and around the globe.
The International Carwash Association represents thousands of car wash professionals and businesses, and the industry's leading retailers and suppliers.
Save more with MONEXgroup!
Call us today and GET EXTRA 10% OFF* on Payment Processing Solutions.
*offer can only be redeemed over the phone
Call 1.866.286.7787
Grow Your Business with our Payment Solutions
Accept credit and debit card payments with MONEXgroup payment processing services. Get approved fast. Enjoy excellent customer service that will help you at every step and ensure stress-free setup and operation.
Contact us today and discover the payment solution that is right for YOUR business!
No-Obligation Quote
Fill in the form below OR
GET EXTRA 10% OFF*
by calling us today at 1.866.286.7787
*offer can only be redeemed over the phone
We will never sell, distribute, or publish your details.