Fundraising is a challenging endeavor, and as Canadians are faced with so many worthy causes to contribute to, it's of critical importance that not-for-profit organizations do everything they can to encourage donors with simple, convenient, and secure ways to donate online. Giving back to our communities, whether locally or globally, is something that we can all appreciate as being an important part of our society. Donating our time and effort with a 'boots on the ground' approach can help do a lot of good in the world, but it's not always easy to fit in the time with busy family lives and demanding careers. For many Canadians, financial donations to worthy causes is often a more viable option that easily allows us to have a positive impact on the communities we live in.
Of course, for charitable organizations and not-for-profit businesses, acquiring cash donations is increasing in difficulty as physical currency becomes less necessary thanks to technological advancement and widespread usage of a variety of digital payment methods. Alternative approaches to gathering funds and accepting donations are needed in order to simplify the process, and for many charitable organizations this means switching to a primarily digital approach that is not bound by the limitations of cash handling or dealing with other less efficient payment methods.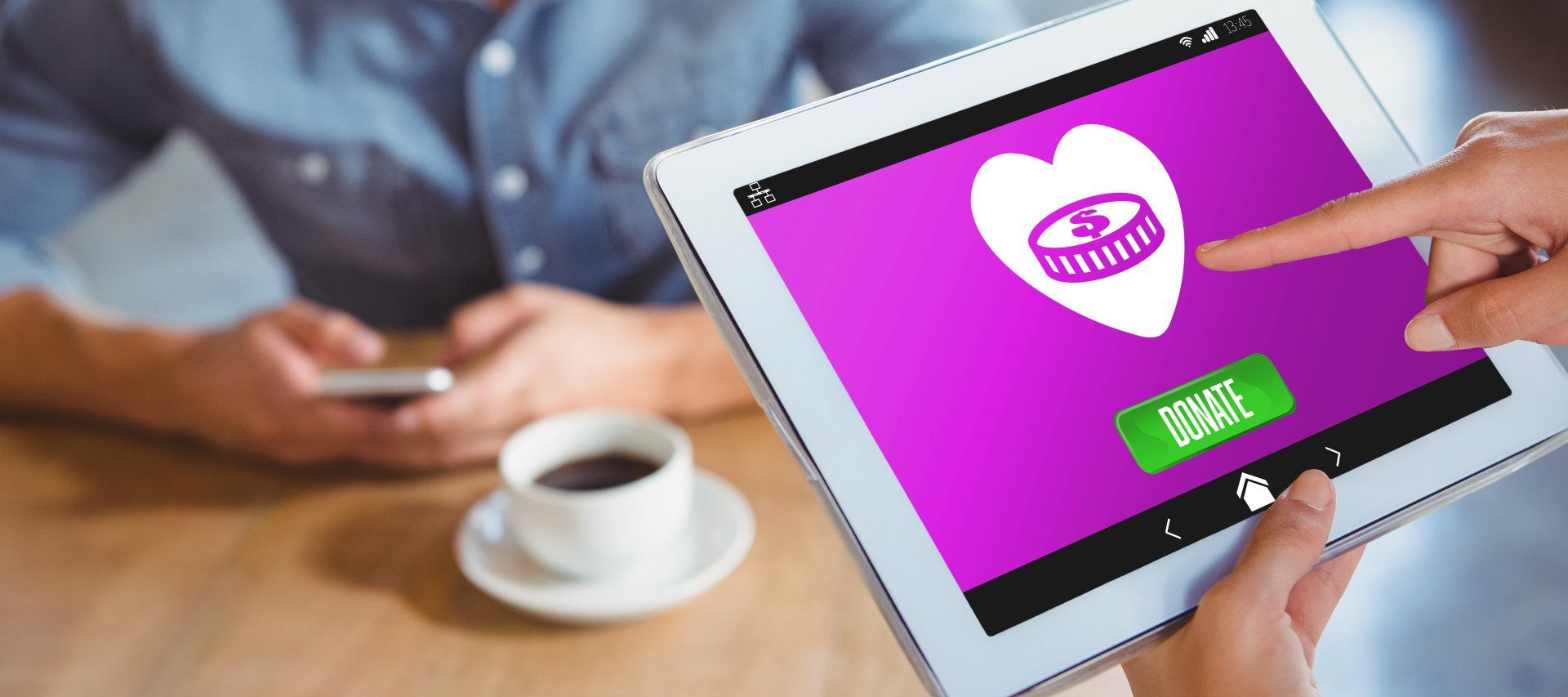 The Critical Importance of Online Donations
It's fairly safe to assume that most not-for-profits will already have an online presence through their websites and other digital platforms such as social media, however not all of these organizations will have online payment processing capabilities integrated with their websites. This will inevitably turn into a major hindrance in the near future as Canadians from coast to coast continue to adopt a digital-first approach to managing payments of all types, including for their charitable donations.
In communities all over Canada, there are often multiple different not-for-profits that operate within the same geographic area, such as humane societies, local food banks, and different types of medical fundraising charities. Unfortunately, there are only so many places within a certain region in which to set up donation boxes, limited numbers of retailers to partner with, and a fixed population that can quickly become oversaturated by multiple donation requests from charities in need. This is why having an efficient online donation platform Canada can readily use is so critical. Being able to offer a simple and easy way to donate online allows not-for-profits to bypass all these limitations that are related to canvassing for contributions using physical locations.
Of course, not all online donation processing methods are equal. Depending on the nature of a particular not-for-profit organization, some types of online donation systems may be more suitable than others.
What About Crowdsourcing Donation Platforms?
One way of enabling digital donations is through the use of an online crowdsourcing donation platform, such as GoFundMe. Platforms such as this can be good options for individuals, as they allow anyone to create a centralized digital location to direct other people to in order to provide details of the charitable cause, as well as offer simple ways to donate directly online using a variety of common payment methods. However, crowdsourcing donation tools like this are not always ideal for larger not-for-profit and charitable organizations, as there are some restrictions on the types of causes that can be supported through these platforms. In addition, there are some limitations to the global reach that crowdsourcing platforms like GoFundMe is able to provide, as some countries are not supported by the platform for a variety of legal and regulatory reasons.
Another aspect of using a third-party donation platform that may not be appealing to all types of charitable organizations is the fact that the platform providers retain control over the functionality and accessibility of your online donations. The funds themselves are not directly affected by this, but many organizations understandably prefer to take 100% ownership of the donation process from beginning to end, with minimal involvement of third-party service providers whenever possible. This is a significant factor in the decision-making process when not-for-profit organizations look to offer the convenience of digital payments to their donors.
Accepting digital donations directly through your own website is quite simple with the right payment processing partner. MONEXgroup provides a variety of flexible online payment processing capabilities to charitable organizations in order to enable fast, secure, and convenient donations. By integrating this capability with your website, your donors will be able to take advantage of the many benefits of an online donation platform.
Donors Appreciate Simplicity and Convenience
To put it quite simply, you'll receive more contributions if the process is easy and convenient for your donors. Accepting donations online means your donors don't need to deal with cash, mailed cheques, or other physically limited methods of collecting funds. With an online donation platform, contributors can simply visit your website any time of day, from any laptop, PC, connected tablet, or smartphone. Online payment processing extends the reach of your fundraising efforts to wherever your donors happen to be at any given time.
Collecting funds online also means you're not limited to the amount of physical currency that a donor may be carrying on their person. So, instead of just offering the small bills or loose change they have, it's easier for them to give larger sums as they see fit. Fast, easy and convenient online donation methods are proven to have a net positive impact on the frequency and size of charitable contributions, making them an essential tool for all types of not-for-profit organizations.
Give Donors Peace of Mind with Secure Transactions
Another benefit to online donation systems is the confidence that donors gain in the security and legitimacy of their contributions. Since every donation is tracked and documented through the online transaction system, organizations can keep an accurate count of all donations made with far greater efficiency. Plus, both donors and charitable organizations can rest easy knowing that multi-level fraud prevention security is in place to eliminate the risks of data theft or unauthorized transactions.
Digitally Provide Donors with Instant Tax Receipts
Digital payment systems come with a robust set of features and capabilities that make it easier to perform a diverse range of functions related to donations and charitable contributions. For example, tax receipts for donations need to be provided to donors, and with an online donation platform these receipts can be instantaneously delivered to each donor directly via email or other digital methods. This means no more waiting for a physical receipt to arrive in the mail or to be printed at the time of donation. Your donors will receive an immediate record of their contribution each and every time they give to your organization.
Accept Payments with Ease from Anywhere with MONEXgroup Online Donation Platform
MONEXgroup is Canada's top payment processing solution provider, and can help your not-for-profit organization leverage the advantages of online donations with many types of transaction processing tools. Online payment portals and virtual payment terminals can be integrated into your existing website, providing complete functionality for accepting donations from any device with a web browser, including smartphones, desktop PCs, tablets, and laptops.
For on-site contributions, charities can select from a wide range of payment terminals, such as tabletop or tablet-style terminals, compact mobile terminals, and even unattended tap-to-donate kiosks that make it easier than ever to give to a worthy cause with simplicity and convenience. Donors can simply approach the kiosk, adjust their desired donation amount with the touch of a button, and then tap their payment method to complete their contribution.
Mobile terminals and virtual payment portals that operate on smartphones or connected tablets are particularly beneficial to charities in need of a solution that takes the convenience and flexibility of online donations and puts it directly in the hands of volunteers who are canvassing or participating at community events. No matter where they are, and no matter what payment method the donor prefers, a mobile payment device such as the Clover Flex or a virtual terminal accessed through a smartphone makes accepting donations fast and amazingly simple.
Boost Donation Results with an Online Donation Platform Canada will Love
With an online donation platform, your not-for-profit organization will be equipped with the technology it needs to make giving easy for your donors no matter where they are, when they want to give, or which payment method they prefer. MONEXgroup payment processing solutions eliminate friction throughout the donation experience and work to the benefit of your charitable organization. Donors will be more likely to give with increased frequency and larger sums, and your not-for-profit will therefore be able to have a greater positive impact in communities across the country.
The time to make the change to an online donation platform is now, and the team here at MONEXgroup is standing by to help your organization implement a convenient and secure solution that delivers the advantages you need. Contact us today to get started!
Author: Layal Scheirich, Head of Sales at MONEXgroup
Bio: With 18 years of experience in payment processing and merchant services, Layal has seen in-store POS technology evolve from its humble beginnings to contactless, unattended, mobile and online alternatives. Today, Layal is an inspiration to the MONEXgroup's team and a go-to source of information related to payment processing. She is enthusiastic to share her knowledge with audiences interested in cutting-edge technologies available today, such as unattended payment for self-serve kiosks, e-commerce online payment gateways, virtual terminals, and contactless and mobile payment solutions.
Social Media Profile: LinkedIn
Contact Info: insights@monexgroup.com