Selecting a retail POS system from among the myriad of options currently on the market can be a daunting task for any Canadian business owner. However, there is a set of key features you can and should focus on when choosing the best point of sale system for retail operation.
The importance of some of these features to you will depend on the nature of your business and the profile of your customers, but all are primarily designed to introduce convenience, efficiency and a better overall customer experience.
Today's consumers come into retail stores armed with a variety of manual and digital payment options in their wallet or on their mobile device. The volume of POS credit and debit transactions in Canada has consistently risen year over year to upwards of 5.2 Billion as of 2019… with a capital B! Tapping a debit card, credit card or mobile phone/wallet has become a universal practice, even more important over the last year as hand-to-hand contact is less desirable. It's fair to say, most consumers enter a store or restaurant with the assumption they will be able to tap or, at the very least, use their debit or credit card to pay, and the experience will be quick, seamless, and secure.
Canadian retailers, charged with delivering the aforementioned payment experience, are further tasked with researching merchant processor solutions and selecting an appropriate one from several choices. If you find yourself in this situation, here are a few of the primary features you should consider as part of your evaluation:
1.     Flexible Payment Methods
2.     Mobile Terminals
3.     Receipt Options
4.     Integrated Bar Code Reader
5.     Retail Business Apps
6.     Software and eCommerce Integrations
7.     Cloud Based Architecture
8.     Custom Reporting and Dashboards
9.     Security
10.  Training and Support
1. Flexible Payment Methods
While credit and debit are still the most common payment types, mobile wallets and other payment alternatives are emerging; particularly in the hands of younger shoppers who've been raised on technology. Depending on the types of customers you serve, you'll want to select a system which provides the flexibility you need to accept payments securely via tap, insert, swipe, chip or PIN, as well as Apple Pay or Google Pay via a mobile device.
2. Mobile Terminals
We all know consumers are generally impatient. No one enjoys having to wait in a line to complete a purchase. Some shoppers will avoid stores with lines altogether. Here again, the last year has seen an increase in mounting frustration related to having to wait in lines, inside or outside of a store.
One way to cut down on lines is to implement a mobile POS terminal, such as Clover Flex, whereby shoppers can complete their purchase from anywhere in your retail store. Consider selecting a solution which offers a wireless device your associates can use to go to customers so they don't need to line up.
An added benefit of a mobile POS is the opportunity to speed up the time to sale, as your customers have less time to consider and debate whether or not to purchase their chosen items.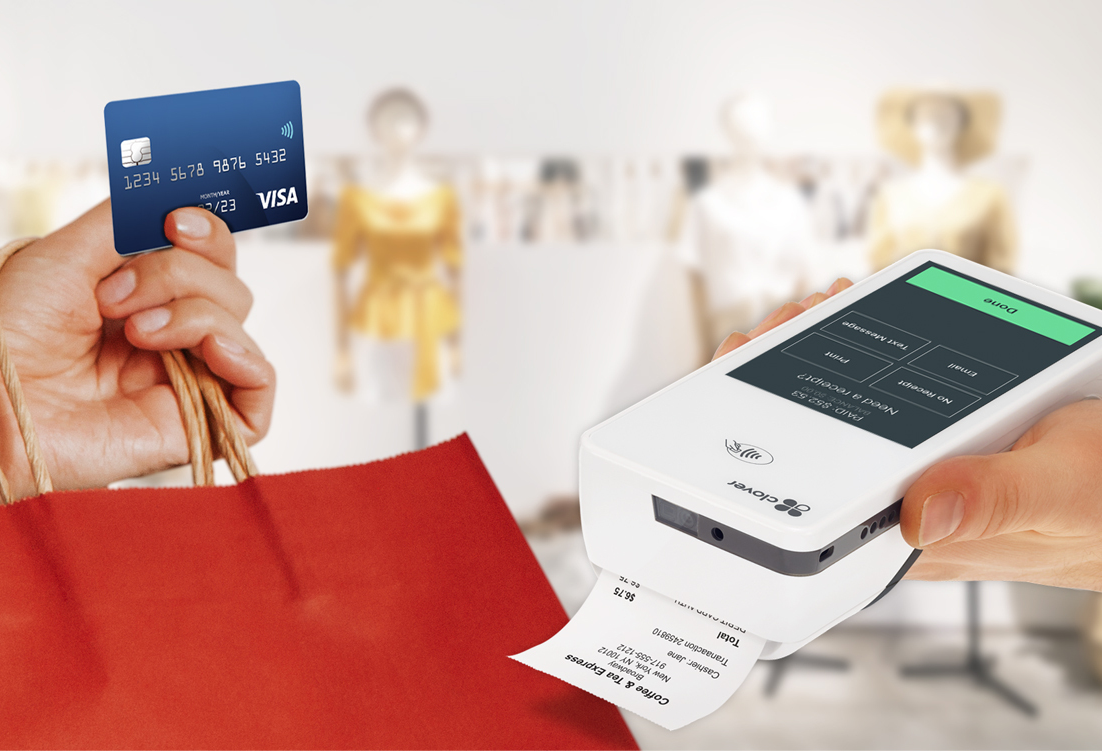 3. Receipt Options
Many consumers have come to expect to be able to receive a receipt for their purchase via email, text or in the traditional paper format. Your retail POS system should support both. If receipts are delivered via email, you naturally have a convenient way to communicate directly with your customers to build trust, announce new products and promotions, and ultimately to generate more revenue.
4. Integrated Bar Code Reader
Quick inventory lookup and management can be the difference between making or breaking sales. You want to be able to give your customers immediate answers to their questions on product details, pricing and availability. Look for a POS system and mobile device which includes a built-in bar code reader to scan items for these types of details.
Further, an integrated bar code reader can be used by your staff to easily update your inventory on the fly.
5. Retail Business Apps
As technology advances, point of sale systems for retail are likewise evolving beyond standard in-store purchase mechanisms. Devices and systems are becoming more versatile and equipped with multi-functional apps for managing inventory, online ordering, employee scheduling and performance, marketing/promotional initiatives and a wide range of other business functions. Analyze your entire retail business to determine where you can improve processes, gain efficiencies, or increase revenue by adopting these types of apps tied to your chosen POS system.       
6. Software and eCommerce Integrations
You will undoubtedly require more than just one software to manage the various aspects of your business from marketing, sales and ordering to returns, HR and accounting. You, like many other modern retailers, may also offer eCommerce, delivery and curb-side pickup options to your customers, which introduces another layer of complexity. As such, you will want to choose a retail POS system with integrations into your other solutions to cut down duplication of effort, processes or data, wherever possible. Of course, the more you can effectively accomplish via a single login and system, the better.
7. Cloud Based Architecture
If you manage multiple retail locations or simply want to have remote, anytime access to your critical business data, you will want to select a cloud-based rather than installed POS system. SaaS or cloud-based point of sale systems for retail allow for secure access from any Internet enabled mobile or desktop device. User access and permissions can and should be tightly controlled to ensure only authorized members of your staff can view or edit your data.
8. Custom Reporting and Dashboards
In order to run a successful, profitable retail business you need to be able to stay on top of sales, marketing and other trends which can affect your bottom line. It's important to have real time access to your data, presented in a straightforward and meaningful way, which enables you to make quick decisions on inventory, ordering or promotions. An effective point of sale system retail merchants benefit from should include easy to interpret standardized reports as well as the ability to create ad hoc customized views of your most important data. Reporting should be available in a configurable web-based dashboard or exportable in multiple formats for further analysis or sharing with others. You may also want to set up scheduled reports, which are delivered to you or other members of your staff to review and track progress on a regular basis.
9. Security
It goes without saying personal security and privacy are top of mind for all consumers, as we hear regular reports of data breaches, credit card fraud and identity theft. You will naturally want to perform due diligence on the security standards your chosen retail POS system has in place, along with its recent track record. At a minimum you should look for a system with full PCI-certified data encryption along with any additional security protocols to let your customers know they can shop safely with their personal information fully protected.
10. Training and Support
While not a software or hardware feature, the level of training and ongoing support a POS system vendor provides can make all the difference in the success of a software implementation.
Find out what the onboarding and training process entails for you, your staff and any new staff hired in the future. Ask about what documentation is available for existing and new employees, as well as how new features or functionality are introduced and how often this typically occurs. You will, of course, want to know if there are any costs associated with initial or supplementary training.
Once the new POS system retail operation is in place, you will want to understand what support processes exist and when they are available. You should know what protocols are in place should outages occur, and what, if any, history the vendor has with such occurrences. For example, MONEXgroup provides 24/7/365 technical support and same-day onsite swap service if a terminal has to be replaced. Our rapid response policy ensures that downtime to your business is minimized.
You never want a point of sale system retail store operation to go down, but it does happen from time to time and you want to know you will be fully supported.
Choose the Right Retail POS System and Features to Grow Your Business
Technology and a drastic shift to contactless commerce over the last year have undoubtedly changed the way many retail businesses operate and interact with their customers. Regardless of their profile, all customers have come to expect a fast, seamless and secure retail purchasing experience. A modern point of sale system for retail business, such as Clover Mini, Clover Flex, or Clover Station Duo, must acknowledge the consumer desire for flexible, frictionless experiences by offering features with speed and convenience in mind. Business owners likewise require quick, reliable access to the data they need to make critical daily business decisions.
Still have questions about which features are appropriate for your business? The team at MONEXgroup is ready, willing and able to help you provide your customers a delightful experience with a secure solution you can trust to grow your business. Contact us today for a free analysis and to get started!
Author: Layal Scheirich, Head of Sales at MONEXgroup
Bio: With 18 years of experience in payment processing and merchant services, Layal has seen in-store POS technology evolve from its humble beginnings to contactless, unattended, mobile and online alternatives. Today, Layal is an inspiration to the MONEXgroup's team and a go-to source of information related to payment processing. She is enthusiastic to share her knowledge with audiences interested in cutting-edge technologies available today, such as unattended payment for self-serve kiosks, e-commerce online payment gateways, virtual terminals, and contactless and mobile payment solutions.
Social Media Profile: LinkedIn
Contact Info: insights@monexgroup.com